XL Event Lab devised Pop In The City to bring one of their iconic inflatable experiences to the heart of New York City. Immerse Agency was tasked with earning local and national media exposure throughout Pop In The City's four-week run in North America's top media market.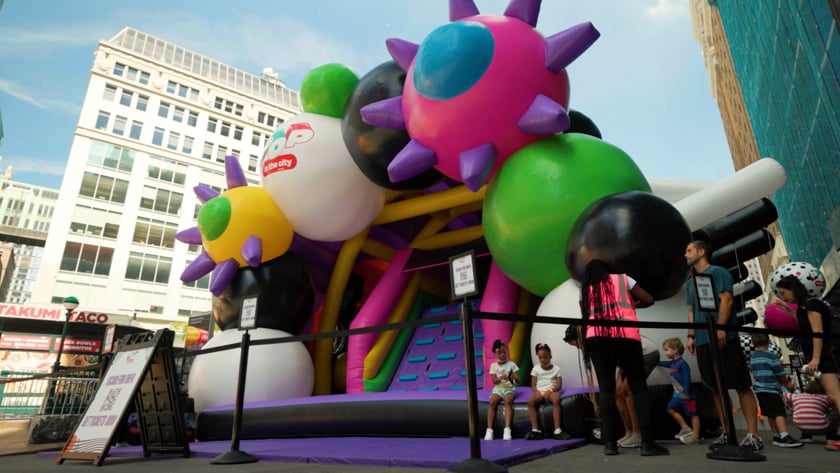 A robust PR campaign was developed to focus on gaining local media coverage through traditional and new media, specifically social media. We utilized social media to partner with a curated list of NYC-based influencers, who had a combined following of 4 million across Instagram, Facebook, and TikTok, to get the word out about Pop In The City's premiere. We then leveraged this momentum built on social media to gain greater coverage from local, traditional media outlets and the global media outlet, Reuters.
By the end of Pop In The City's four-week stay, Immerse had exceeded expectations for the campaign garnering massive amounts of local, national, and social media coverage. The influencer partnerships generated over 100,000 engagements with Pop In The City content. We had all six local Manhattan TV news stations cover the event, resulting in over 2.5 million local TV media impressions. For online news, we reached an audience of over 327,000,000 with articles on the event published by Time Out: New York, Audacy.com, NASDAQ, Gothamist, many of the key TV stations, and local parent blogs. Finally, we secured Reuters to cover Pop In The City, which resulted in over 3.2 million national TV impressions. After the Reuters story, mentions of Pop In The City popped up across the nation from Phoenix to Indianapolis and from Seattle to Miami.
As a result, Pop in the City's stay in Manhattan was wildly successful, resulting in the client extending their run by popular demand. Yet another case of headline news by Immerse Agency!
0
+
Online Audience Reached